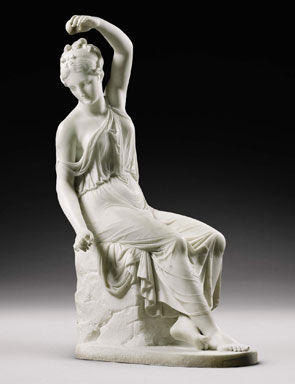 Die Spinnerin by Rudolf Schadow. Estimate: £120,000-180,000. Photo: Sotheby's.
LONDON.- On Thursday, 8th July 2010, in a sale of European Sculpture and Works of Art, Sotheby's London will offer three sculptures recently discovered in Ireland. When Sotheby's Sculpture specialist Erik Bijzet first cast his eye over the photographs of the sculptures that had been brought into Sotheby's Dublin office, he was immediately struck by their intrinsic quality and importance. Created in nineteenth-century Rome, the works are seminal examples of Neo-classical sculpture and provide a rare occasion to acquire fresh to the market pieces in mint condition. Comprising Die Spinnerin by Rudolf Schadow and Venus Italica and Hebe from the Workshop of Antonio Canova, the marble sculptures were found in their original location in Annaghmore House, Tullamore, Offaly. Their history includes an Irish commission, the Grand Tour, and Rome's flourishing artistic community at the centre of it all.

Undoubtedly, the highlight of the group is an exceptional sculpture by the Northern artist Rudolf Schadow (German, 1786-1822) entitled Die Spinnerin, estimated at £120,000-180,000. The marble is considered to be the artist's breakthrough achievement and the work with which his reputation rests. Schadow had arrived in Rome in 1812 to fully absorb the legacy of sculpture from classical antiquity and work with the master Antonio Canova. King Frederick William of Prussia would have provided financial support to this end, and his patronage made possible Schadow's success in Rome.

The sculpture of a young girl spinning was first conceived in 1816 and Schadow went on to produce versions for such eminent patrons as the Prussian King, Prince Nikolaus II Esterházy of Hungary, Prince Ludwig of Bavaria, Baron von Lebzelter, and the Duke of Devonshire. The Irish Grand tourist Henry Patten was one of many who followed the fashionable example set by the wealthy as they toured Europe, commissioning while on their travels works of art from artists residing abroad. Patten commissioned the present work in 1819 for his house in Westport, County Mayo and Schadow made several references to it during the spring of that year. There is a dedication to Patten on the marble, identical to that on its pendant, a Sandelbinderin, ordered by Patten at the same time and sold at Sotheby's in London on 12th June 1986.

Talking about the emergence of the sculptures, Erik Bijzet said: "I am thrilled Sotheby's has the opportunity to offer these fantastic finds. That the sculptures are in perfect condition and virtually untouched is particularly gratifying. The literary references to Schadow's commission for Patten and the sculptor's evident delight in its progress as he carved, substantiates the importance he attached to this version of the work. The addition of this piece to all the extant examples is a wondrous find and an exciting new chapter in the story of a work of art. It will allow scholars and collectors alike the chance to look anew at Schadow's masterpiece. It is also rare for examples from Canova's workshop, made during the sculptor's lifetime, to come on to the market, and these two discoveries complement each other beautifully."

The two remaining sculptures to emerge from the house are a pair of marble statues, Venus Italica and Hebe, from the Workshop of Antonio Canova (1757-1822). They were carved during Canova's lifetime, circa 1820, a year following Patten's commission from Schadow. Estimated at £60,000-80,000, the marble statues were taken from two of Canova's most famous models. Canova combined idealism with subtle eroticism in the depictions of Hebe, the goddess of youth and cupbearer to the deities of Mount Olympus, and Venus Italica. They exhibit some particularly fine carving; indeed, Canova's highly skilled studio assistants who produced reproductions of his sculptures went on to become well-known sculptors in their own right.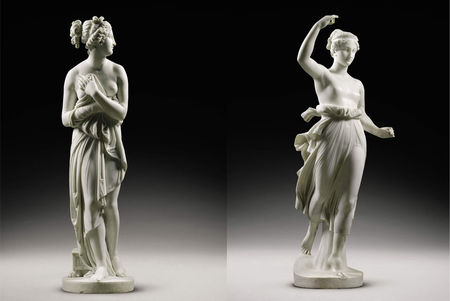 The two remaining sculptures to emerge from the house are a pair of marble statues, Venus Italica (left) and Hebe (right), from the Workshop of Antonio Canova (1757-1822). Photo: Sotheby's.